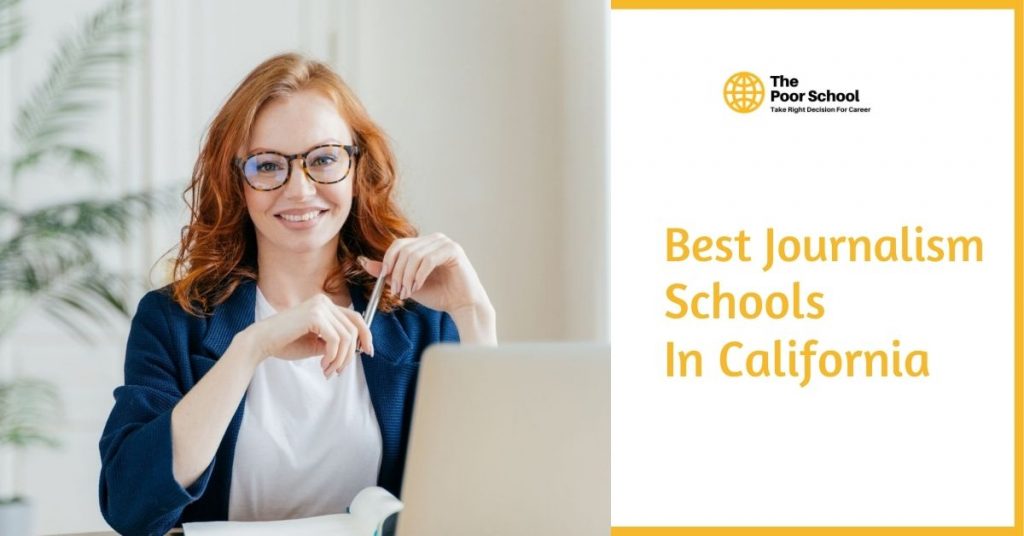 Journalism is among the most passionate career. In a 2022 survey, about 77% of working journalists want to choose journalism as a career once again.
Why California for Journalism Studies
To fulfill the dream of students, journalism schools in California have markup their stand for excellent quality education all over the nation. In the list of 20 best colleges for journalism in the country, 3 California schools have made their remarkable place.
If you see other factors for opting California Journalism Schools, then it will be employment, as major news outlets you will be found in California, which help you build connections, get internship and job.
Factors Considered to Filter the List –
For your information, we have a filter list of the best California Journalism Schools based on their academics, students' engagement in projects, internships opportunity, industry connections and graduation rates.
Best Journalism Schools in California
It's been more than 125 years; Stanford University is marking up its excellence in journalism studies. 
Starting from 1891, the university is breaking down the new revolution each decade. Currently, its Journalism Graduate Program is diversified into various wings, including data lab, institute of design and many more. 
Stanford offers a masters program in journalism; each year, the university enrolls only 15 students. This program is full-time; no part-time schedule is available. Its curriculum is divided into three parts –
Required Courses – It contains seven courses, which are mandated to learn. It includes courses such as Public Affairs Data Journalism, Multimedia Storytelling, Journalism Law, Writing Fundamentals, News Reporting and many more.
Specialized Reporting Courses – One gets the choice to select two courses out of eleven. At the same time, this part helps students to explore more in journalism with various studies such as programming in journalism, virtual reality journalism and many more.
Electives – One needs to choose three electives from the department of communication or from the other graduate department. It can be in design, programming, or data.
In addition to their core studies, they have labs with large led screens for good visualization. In labs, you will learn to work on different software such as Final Cut Pro X (Video Editing), Tableau, ArcGIS Mapping (For Data Visualization), Hindenburg Audio Editing, content management systems such as WordPress and many more.
UC Berkeley Graduate School of Journalism
UC Berkeley Graduate School of Journalism started in 1968. Each year university enrols about 120 students in their journalism program (60 students first year & 60 students in the second year).
UC Berkeley Journalism curriculum is based on professional practice, with four areas of focus on reporting which includes
Investigative Health
Science and Technology 
International
University offers various programs in journalism; we have listed all of them for your help –
Master of Journalism
Undergrad Journalism Minor
Additional Programs to know more about Journalism 
UC Berkeley Advanced Media Institute
Investigative Reporting Program
Bloomberg Journalism Diversity Program
 The UC Berkeley – 11th Hour Food and Farming Journalism Fellowship
Apart from this, the University allows  for inter-professional education, you can learn journalism with public health and law program.
Depending on your area of study, University gives access to various labs. For example, the student will have access to Madeleine H. Russell Radio Lab for audio editing. For publishing news, the university has three hyper-local news websites. 
Students are prepared to get internships in renowned news outlets, The New York Times, Time Asia and many more.
For your information, UC Berkeley is one of the best schools for investigative journalism. University offers a separate program in this niche.
USC Annenberg School for Communication and Journalism
For the past 25 years, USC has been offering ACEJMC accredited degrees in journalism, with a record for being one of the best broadcast journalism schools in California.
USC is offering various programs in journalism, which include –
Bachelor of Arts in Journalism
Master of Arts in Specialized Journalism 
Master of Science in Journalism
In the USC undergrad journalism curriculum, students will learn about civic engagement, coding usage in journalism, media literacy and many more.
In its undergrad curriculum, 83 courses are there, which provides students with the choice of making a personalised program and most importantly, in the undergrad classroom, student – faculty ratio is 3:1.
While if we seek a master in journalism curriculum of USC, it is cut through emulsion between theory and practical learning, students are made to work in various multimedia projects, investigative reporting, advanced writing and python coding for journalism. If we talk about the master's program class size, it is approx. 42 students.
USC Annenberg's Media Centre, where you will get real-world learning. The Centre is facilitated with all trending equipment used in journalism. The school has its news broadcasting platform, AVTN. University also helps students to get employed in their dream jobs.
UC Irvine School of Humanities
It is the only university in the UC system that offers an undergraduate degree in journalism and, most importantly, a literary journalism degree. UC Irvine is the only institute in the nation that offers such a degree.
The Faculty of UC Irvine is excellent and most of been recognized with renowned awards such as the Pulitzer Prize, Letters Rosenthal Award, and the Whiting Writers Award.
Before checking into the curriculum, you should know regarding literary journalism, 
What is literary journalism?
In short, if we say it is different from typical newspaper writing, not focusing on news stories, rather than on creative non-fiction writing and long-form journalism, you will get a lot of freedom from strict deadlines and daily news. These journalists write more about people, places and things.
The core focus of the UC Irvine Literary Journalism Degree is to build a writing foundation. We have highlighted some of the key points of the program –
Apart from typical journalism classes like intro to reporting, you will also get classes related to subjects like food, travel, science, culture, justice and many more.

Some of the workshop classes include audio storytelling, magazine storytelling, immigrant narratives and, most important workshop class size is small, about 15, which helps you to work closely with the professor and peers.

Getting this literary journalism degree will help you work in various industries. 
The college faculty is renowned, so they organize various seminars by inviting famous industry people. Most importantly, the department makes a slack workspace to connect with alums so that students discuss their queries related to market demand.
UCI prepare their students for getting internships in local and national media organizations. We have listed the organizations UCI Alumni students interned with 
Local Media Organizations include Orange Coast Magazine, The Orange County Register and Echo Media Group.
National Media Organizations include – Harpers Magazine, NBC Universal, E! News and Dow Jones Newspaper Fund.
UCI is rated among the best colleges for writing and journalism. 
SDSU School of Journalism and Media Studies
SDSU is among the good journalism schools. It is listed under specialized accreditation by ACEJMC (Accrediting Council on Education in Journalism Mass Communications). In the whole nation, only 25% of universities get special accreditation.
SDSU offers a Bachelor of Arts in Journalism. The whole curriculum revolves around preparing students to think out of the box. Labs have been scheduled for making students regarding usage of various software's which help them doing research, designing, editing and data framing.
What will you learn in this program?
Writing Courses
Principals of Design
Media Law and Ethics
Digital Journalism
TV News Reporting and Producing 
And most important, universities have pre-major prerequisites for the journalism program. Click here to know. 
The SDSU Journalism Program has small lab classes so students can engage more with their faculties. For more engagement, schools have different communities –
Society of Professional Journalists
Asian American Journalist Association
National Association of Black Journalists
National Association of Hispanic Journalists
The Daily Aztec, a student-run Campus newspaper
KCR, student-run campus radio
Mundo Azteca, Spanish – language campus newspaper
Additionally, the university plays a vital role in making students participate in national competitions and get paid internships in various renowned news outlets. 
San Francisco State University
Since 1960, SFSU has been offering a journalism program. University have breakdown its difference from other journalism programs in California by making more emphasis on projects from the first day of college,
Along with this college providing a bilingual journalism program, it can be an excellent opportunity for students who want to diversify their careers.
SFSU offers three programs in journalism, which include –
Bachelor of Arts in Journalism
Bachelor of Arts Bilingual Spanish
Minor
Check out the outcomes of the BA in Journalism Program, which include –
Critical and Independent Thinking
Analytical Competence 
Research and Reporting
Media Literacy
Accuracy Examination of Own Work
Learning New Trending Technology 
Acknowledging News Media Law
SFSU is one of the best schools to study journalism. They offer students the opportunity to learn in other countries. SFSU has collaborated with renowned institutions worldwide.
Students are being notified about various competitions, scholarships and internships; University has its own online newspaper and magazine with the name Golden Gate Xpress and Xpress Magazine.
For better acknowledgment of journalism learning, the university has a mentoring program that helps students to share queries related to their subjects, career and internships with their mentors. 
CSUN is recognized for various programs; journalism is one of them. Since 1967, the university has been offering a journalism program.
In the session between 2019 to 2020, 134 students got their bachelors in journalism from CSU Northridge.
CSU Northridge offers various programs in journalism, it includes –
Bachelor of Arts in Journalism
Bachelor of Arts in Journalism (Broadcast Option)
Bachelor of Arts in Journalism (Public Cast Option)
Minors in Journalism
Minors in Spanish Language Journalism
As per the students, the faculties of the university are cooperative, they help them to develop critical thinking and creativity, and most important CSUN Journalism Curriculum uncovers all the trending topics which help students use in the real world, such as usage of reporting techniques for interviewing, applying proper technology for particular task and usage of legal context for producing news media.
University has more than five student media platforms, along with clubs and organizations for journalism only. Apart from this, they help students know about various scholarships, awards and internships.
CSUN Journalism Department has a very strong alumni network. Recently they organized the 60th union.
San Jose State University
SJSU has been offering journalism degrees since 1936. The school has a great reputation in Silicon Valley. Many tech companies hire candidates from SJSU.
It's been more than 80 years since the university published its daily newspaper, Spartan Daily. It is the only daily newspaper in the western part of the nation that has sustained for a long time.
SJSU offers a Bachelor of Science in Journalism, a university structure curriculum for journalism per market demand. It uncovers all the topics that help the individual get expertise in their journalism career.
And most important whole curriculum bilaterally moves with working in Student Media Production so that students can get a glimpse of Journalism real world.
While pursuing their major, an individual need to pursue about 240 hours of internship. The whole internship is monitored by school faculty and on-site supervisors. Students need to submit their work copies to their department for reviewing their work during the internship.
List of Student Media in SJSU
The Spartan Daily
Update News
Access Magazine
SHIFT
Equal Time
The Spear
Hey Guys, we hope you like our post best journalism schools in California, If you have any addon related to post, Kindly contact us, we welcome our readers suggestions.