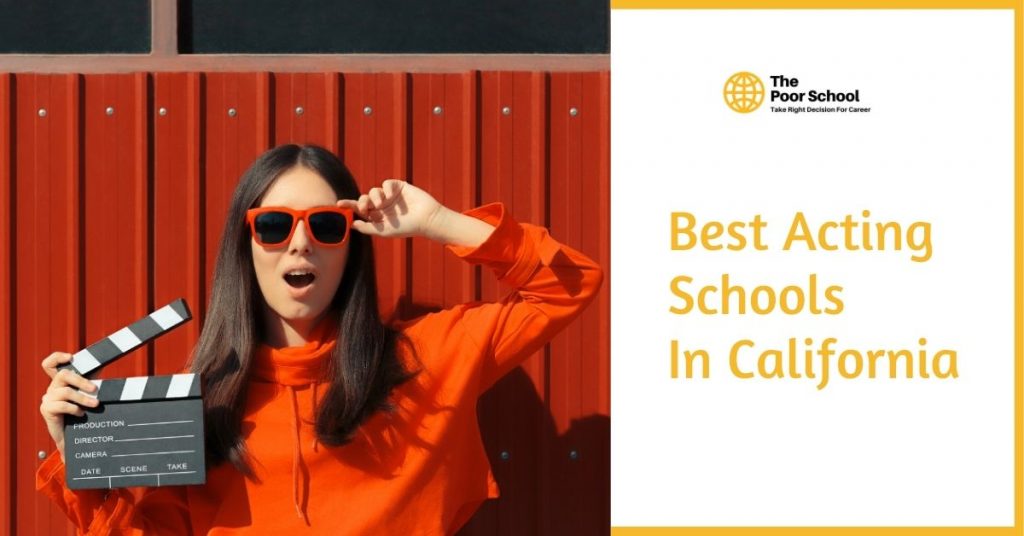 At present, only 0.04 percent of actors are successful in Hollywood Industry, and only 2 percent make their living; the reason behind such a low percentage is the lack of making wise decisions by unsuccessful actors.
The Poor School congratulates you for the first wise decision towards your acting career of taking admission in an acting school. In the below image, see the benefits of studying in an acting school –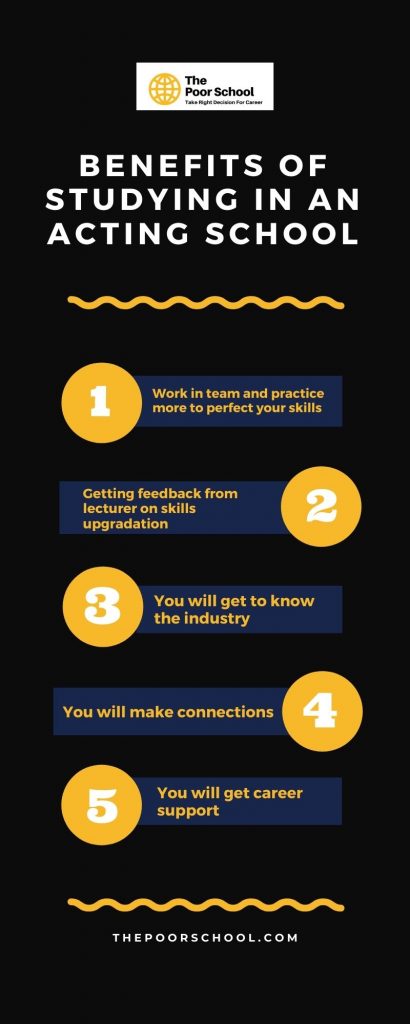 Our experts have listed the best acting schools in California based on academics, number of theatres, employment support, and many more, which will help you select your acting school..
List of Acting Schools in California
Cal Arts School of Theater
Cal Arts School of Theatre is one of the best acting colleges in California; it is known for producing the futuristic approach students who are equipped with all the knowledge related to the theatre, 
Location and Climate 
Cal Arts School of Theatre is based in Los Angeles, which is termed as western Hollywood; due to prime location, it influences the student to prepare for upcoming trends in industry as well as opportunity to make new connections, if we talk about the weather of college, the temperature lies between 36° F to 84 ° F, so students who don't like extreme cold weather, it is best for them.
Curriculum 
Cal Arts offers BFA and MFA degrees and subcategorized its curriculum in two parts –
1.Performance – Under this category, students are prepared with new techniques to coordinate their emotion and physical action, which helps the student to perform in every character, 
CalArts School of Theatre is ranked top in performing arts schools in California for producing one of the best theatre artists.
Degrees offered below this category –
Acting – BFA & MFA
Directing – MFA
2. Experience Design and Production 
Suppose you are one of the students who like to articulate new things. In that case, guys opt for the sector of experience design and production. The curriculum regulates recent trends and, most important, students will grab the learning while working on a real-time project
Experience Design and Production – BFA
Applied Arts – MFA
Costume Design – MFA
Interactive Media for Performance -MFA
Lightening Design – MFA
Producing – MFA
Production Management – MFA
Scene Design – MFA
Sound Design – MFA
Stage Management – MFA
Technical Direction – MFA
Faculty 
For teaching each program, specified niche experts are allocated. You will be amazed to know the winner of the "Tony Award for Best Lighting Design" – Christopher Alvernia is the head of the Lightening Design. 
College also invites renowned visiting artists from different countries of the world to share their experiences with students.
UCLA School of Theatre, Film and Television
UCLA TFT is the most famous acting school among students with a low acceptance rate; for the academic year 2019, it is 4%.
TFT is an accredited performing art colleges from NAST; for admission to this school, the applicant needs to submit an essay and give an audition.
Location and Climate
UCLA is located in Los Angeles; it is one of the most famous cities globally, and it is the hometown of many films actors and actresses. The temperature throughout the year in LA is 36° F to 85 ° F.
Curriculum 
For acting aspirants, the college offers a Bachelor of Arts in Theatre (B.A. in Theatre), it's an undergraduate program of 4 years, 
The curriculum of this program is based on academic and acting skill development; UCLA acclaims that they provide 6 quarter training in acting, voice, and movement while the rest of the time it prepares students to become critical thinkers to obsolete its professional-level problems.
For a good foundation of acting with a degree and eagerness to research in your profession, you can choose UCLA.
If you proceed with MFA at UCLA, it will boost your career at a good stand.
Faculty 
Most of the TFT Faculties are a winner of famous accolades, including Tony Award, Emmys, and Oscars.
Theatres
UCLA has some of the famous theatres under which student accomplish their learning for acting,
The Billy Wilder Theatre at the Hammer Museum 
Geffen Playhouse
University of Southern California | School of Dramatic Arts
USC School of Dramatic Arts is one of the best performing arts colleges in Los Angeles and known for producing one of the best actors for Industry,
Each year, it's been found that USC launches more than 20 theatrical shows to showcase their students' hard work, creativity, and dedication in their sector, including stage management, lighting, costume design, and many more.
With the above initiative, students get the opportunity to make connections with Industry Experts.  
Location and Climate 
USC School of Dramatic Arts is located in Los Angeles; if we talk about safety inside the college campus, it is very safe; if you are going outside the campus during the evening and early morning, for your betterment, the college provides the free Lyft services. 
Climate is favorable for students who don't like cold, as the temperature ranges between 36° F to 85° F throughout the year.
Curriculum
USC School of Dramatic Arts is known among the good acting schools, as the students who get out from the school are proficient in their skill; the hidden formula behind its achievement was curriculum, 
USC SDA's special curriculum for acting students includes convergence of theoretical and conservatory pattern training. Under training, you will be guided for working on camera, voice-over, 
USC SDA offers BA and BFA acting programs in California; for upgrading your studies in acting, you can apply for MFA Acting.
Faculty 
USC School of Dramatic Arts have the best faculties, and they are known for giving good and engaging acting classes; some of the renowned names include Michael Kennan, Bayo Akinfemi   
Theatres 
The college has four theatres with all necessary equipment, its initiative of launching theatrical shows each year helps boost students' confidence.
Bing Theatre Drama Center and Massman Theatre 
Scene Dock Theatre
MeClintock Theatre
The college has an open career center for job opportunities, under which alumni also engage with students and help them prepare for auditions.
Chapman University, College of Performing Arts
Chapman University has ranked among the top 10 acting colleges in California; the university is known for its quality education and low student & faculty ratio. 
Location and Climate 
Chapman University is located in Orange if we talk about location advantage, As being near to LA, it helps students to make industry connections, internship opportunities apart of this, if you love to travel, in the nearby distance of 4 miles you can visit Disney land while within 17 miles you can go to Newport beach.
Overall college campus and its nearby locality are safe for students.
The temperature in Orange ranges between 64° F to 86° F.
Curriculum
College offers three programs which includes,
Bachelor of Arts in Theatre
Bachelor of Fine Arts in Screen Acting
Bachelor of Fine Arts in Theatre Performance
And Most Important college BFA in Screen Acting in collaboration with Dodge School of Film and Media Arts (an entity of Chapman University)
Do you know why Chapman University is one of the best screen acting school? 
They allow first-year BFA students to participate in screen acting training and provide the opportunity to give audition for lead roles in theatrical productions across campus. (Not all BFA colleges provide this opportunity) 
If you are searching for technical theatre colleges in California, you should check the Chapman Dodge School of Film and Media Arts, and it is equipped with all the trending equipment.
Theatres 
Chapman University articulates their student performance by providing world-class theatres which include –
Musco Center for the Arts:
O.L. Halsell Foundation Studio TheatreWaltmar Theatre:
Career Support – After giving you complete training and classes, In the senior year, the college provides you learning of making a resume, actor reels, and website, 
Apart from this college organizes an event to showcase students `talent in front of casting directors, managers, artistic directors, and agents.
UC Irvine, Claire Trevor School of the Arts
UC Irvine is the prestigious acting school offering Honours Acting Degree (very few colleges of UC System offer an honors degree in acting). 
There are certain eligibility criteria to take admission in UC Irvine Acting Program, our team has created the infographics for a better understanding –
Location and Climate
UC Irvine is located 40 miles southeast of Los Angeles; the college campus is eco-friendly and safe.The climate of UC Irvine is moderate, with temperature between 47° F to 82° F 
Curriculum
UC Irvine's curriculum makes its students one step ahead of their competitors in terms of knowledge and acting skill development.
With a futuristic approach, the college prepares its students for National University/Resident Theatre Association (U/RTA) auditions.
College offers two programs in acting:
Theatres
Irvine Barclay Theatre
Claire Trevor Theatre
Winifred Smith Hall
Robert Cohen Theatre
Little Theatre
Nixon Theatre
Loyola Marymount University
LMU is a full time acting school that provides outstanding training in acting, and as per reviews, it is preferred in the top 10 for study acting in Los Angeles.
Location and Climate
LMU is located in the heart of Los Angeles, the college campus is safe, and you can enjoy the nightlife nearby campus. LMU is best for students who love sports.
The temperature in Los Angeles ranges between 36 F to 86 F.
Curriculum 
LMU curriculum is based on beginner to advance principal to teach its BA in Theatre Arts Program, and below we have listed classes which you will have in LMU –
Fundamental acting class

Two western theatre literature/ history classes – it helps you expose with playwrights, a complete acknowledgment of Greek to modern-day acting. 

Take two physical classes option.

stagecraft

sound

lightening

costume design
The major advantage of learning acting in LMU is less number of students, and you will be amazed to know faculty uses the Stanislavski teaching style and provide all the essential tools that help you in the future.
Remember all the classes you will take within four years as an undergraduate; it will develop you into an actor and push you towards what you want to do in the future. 
Faculty
Faculty of Theatre Art Program have expertise in their field; they are supportive and always eager to solve the issues related to the subject and provide important notes. Moreover, they always push students to do better in their skills.
Theatres – the Strub & the Virginia Barnelle.
Admission Criteria 
To take admission in LMU for the acting program, you have to give an audition – 
Under audition, you have to perform and provide two contrasting monologues, one classical and one modern, and we recommend you pick the monologue that showcases your personality.
American Academy of Dramatic Arts
American Academy of Dramatic Arts is one of the best acting conservatories in California; it was established in 1874. Being such an old conservatory, it is providing quality and trending education to the students.
Many AADA alumni are nominated for prestigious awards of the country, including Oscar, Tony, and Emmy's.
Location and Climate 
AADA is located in Los Angeles, and you will be amazed to know the campus of the college is near Hollywood, which quite benefited students to make a good connection in the industry.
Accommodation nearby the college is expensive, and the surrounding of the college is quiet.
If we talk about the climate of LA throughout the year, the temperature ranges between 36 F to 86 F.
Curriculum 
AADA offers two years acting course, and its curriculum moves from beginner to advance. From the below infographics, we have showcased the excellent framework of AADA,
AADA offers three options for the degree, which includes –
Associate Degree
It is provided after two-year conservatory program completion with the name – Associate of Occupational Studies (AOS)
Certificate of Advanced Training
In this program, you can take admission after the 2nd year, AOS degree holder will get additional credits.
Bachelor Degree Options           
It's a good opportunity for the students who want to have a bachelor's after academy studies, as most US colleges accept credit transfer of AADA.
AADA degrees are accredited by the Middle States Commission and The National Association of Schools of Theatre (NAST).
Faculty 
AADA is equipped with top acting coaches in Los Angeles campus; if you check the experience of faculty in their niches, its not less than ten years,
College also has a portal named "The Actor Society," under which students get tools and opportunities to connect with alumni and industry professionals such as casting directors and many more.
American Musical and Dramatic Academy (AMDA)
AMDA is a private acting conservatory established in 1964; while the Los Angeles campus was started in 2003, more than 1500 students are studied from AMDA.
AMDA has been accredited by the National Association of Schools of Theatre (NAST) since 1984. 
Location 
AMDA is based in Los Angeles. In a talk with AMDA alumni, we come to know that, while doing monologues, students have to get their costumes for each class, so you should find the dorms within walking distance from the academy to carry the suitcase easily.
Curriculum 
College is very rigid for its curriculum and schedules the classes for each semester to acknowledge all the subjects.
Students need to be punctual for attending their class; if they are a single minute late, faculty will not allow entering the class. Apart from this, if you miss a subject class four times in a semester, you will be flunked out of class,
The reason behind strictness in attendance, as AMDA is a performance art college under which each class performance connects with others, if you miss one or another, you will not get the proper learning.
College offers programs that include
Bachelor of Fine Arts

Bachelor of Arts

AOS (Associate of Occupational Studies)

Integrated Certificate Program
From the below infographics, you will better understand the programs offered by AMDA.
Faculty
AMDA faculty are supportive, and they do not pamper students apart from preparing the student for the competitive world. 
The college will interact with various best agent managers and casting directors to understand the industry better.