Online Acting Classes is one of the best options for individuals who want to start acting career with their regular jobs, as they facilitate their students with various benefits such as –
To help you in the journey of becoming a professional actor, The Poor School Team have listed one of the best online acting classes with various filters such as module, student's reviews, cost, duration of the class, problem-solving sessions, and many other factors, which help you to compare among the classes and select the best which fits you.
Yes, as acting lesson plays the vital role in building the strong foundation of acting career.
We can easily learn acting at home by attending online classes, as there are good content available in internet nowadays by experts.
Yes, online acting class are worthy, you can easily access these courses from anywhere and learn from your favorite coach, most important they are affordable.
List of Online Acting Classes
1. Ashlee Espinosa
Ashlee Espinosa has good experience in giving professional acting classes to students. Since 2014 she has been working with various reputed institutes as an associate faculty and professor, recently she resigned from UC Irvine as a lecturer. Apart from training students, Ashlee also works as an actor and director/ choreographer in various regional theatres.
Ashlee Espinosa gives a live virtual acting class via zoom, and she has segregated training into five different modules. One of the best things I have found in her training is that she first helps students become good artists and then helps them become a brand.
It is a four-week course, and you will get one session each week. Whole course module cost up to $ 150.
Ashlee also gives the students an option to customize the duration of classes when they join one to one acting classes.  
2. Joseph Pearlman
If you are searching for advanced acting classes online, then Joseph will help you out!
Joseph Pearlman is a renowned online acting coach in the Hollywood industry; he has trained many actors, which includes Iliza Shlesinger, (comedian, Netflix's "Elder Millennial), Michael Welch ("The Twilight Saga"), etc. Apart from this, he is a contributor to the Backstage Magazine and INC Magazine, and his academy Pearlman Acting Studio is rated as the best acting studio.
As per trending requirements, Joseph has launched various courses. I have included some of the preferable ones –
1. Launch Your Career Program
Under this, you will learn enacting audition techniques, and his primary goal is to help you book a series lead before it goes to a casting, 
In this program, he trains students to make a career-launching relationship with producers within 60 seconds, and he also provides a 40-page book that includes a career roadmap. It is one to one class via zoom
It's a 4-week online camera class, and you will get training from Joseph and its team of coaches. Under this training, you will be prepared for advanced on-camera techniques, and we have checklist some of the relevant keynote related to this training –
Joseph Pearlman has good knowledge of industry insights which helps a student to boost their career.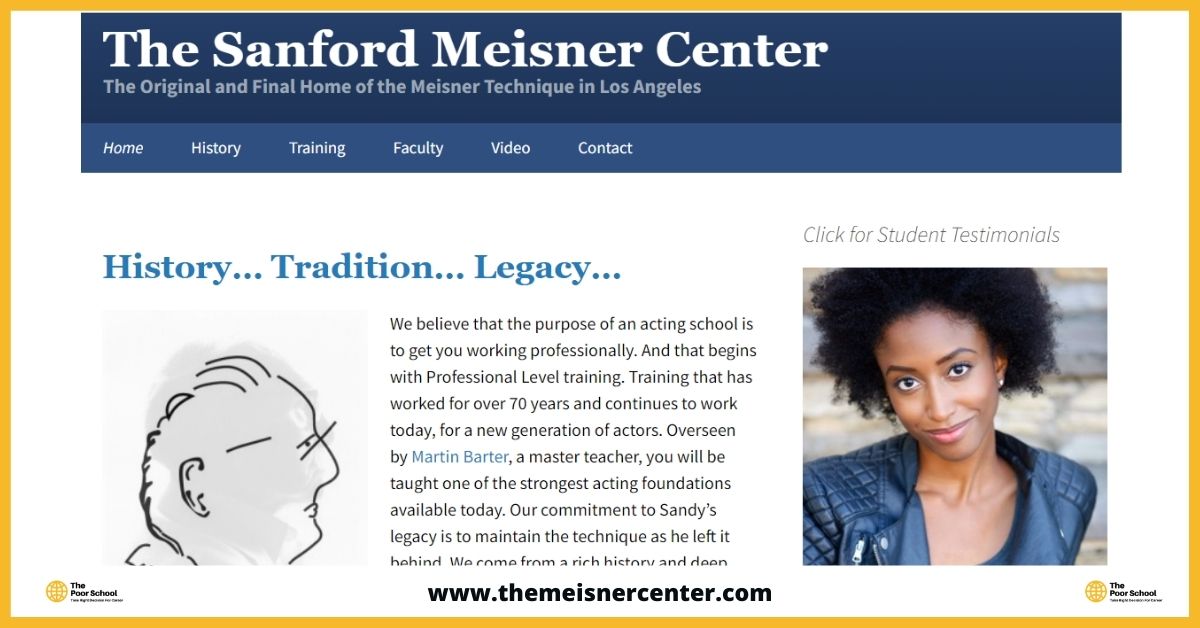 3. The Sanford Meisner Centre
The Stanford Meisner Centre online class are known for teaching the basics of acting for beginners. Its courses include all the fundamentals of acting, which acknowledge you to become a good actor,
You will learn your classes from "Rajeev Perera". He has good experience in the casting industry, and he was part of 4 teachers who were mentored by Martin Barter to teach Meisner technique, students review rajeev as a very supportive coach.
This course will help you to lay down the firm foundation of your acting skills. Moreover, you will also learn about acting business standards, including casting website working and decisions made during auditions.
As you are getting learning from experienced casting director – Rajeev Perera, you will be able to learn about the prospects of casting teams. After the completion, of course, you will be fully prepared to apply for auditions, call back.
It is a five-week course you will learn via zoom, and the cost of this whole course is only $ 200.
To get admitted to this course, you need to give an interview, and if you want to audit this class, you can apply for a "Free Online Introductory Session."
 You can't learn all modules of the Meisner technique online, so you need to join offline classes too.
4. American Conservatory Theatre Studio (A.C.T. Studio)
A.C.T. Studio gives its students emulsion of on-camera and theatre experience, and it is one of the popular conservatories for theatre productions.
If you become part of the A.C.T. Training Program, you will get the opportunity to become a volunteer of various theatre production ongoing.
In the A.C.T. online acting course, their mission is to prepare students for a wholesome actor.As per the A.C.T. students, teachers acknowledge them with new skills like how to control breadth and how their bodies interact with the text. The most fantastic thing they found is the physical and mental training to articulate more focus on acting skills.
Below we have listed modules that A.C.T. Coach teach in their virtual acting lessons –
You will be amazed to know that this is a weekend acting course, and it can be the best option for working professionals. 
To give equal attention to every student, A.C.T. permits only 12 to 14 students in each class. All the classes will be via zoom, and you will also get access to Melissa Smith Library.
5. The Groundlings
The Groundlings is one of the best online acting classes for beginners. With the best instructors, they acknowledge students with various levels of improv.
For taking admission in the classes of groundlings, you need to give an audition, but if you are taking admission in workshop A, no audition is required, "Reason behind audition is that student should not put their toes into advance class before knowing basics., "
It was established in 1974 and trained more than 2000 students each year;
The module of The Groundlings is to prepare students with an advanced emulsion of skills by keeping the basics strong. In this best online acting school, you will get the various programs to start with 
The faculties of the college are very supportive; they help students get their creativity out. In improv, you are performing things on the spot.
The duration of classes are varied, and it depends on the course you opt for. If you choose the basic improv course, it will be a 6-week course which includes 12 sessions and each session is 3 hours 30 minutes and the cost of a basic improv course is $ 525. For more information, you can visit their website,
Remember the key points before joining any online acting class –
While getting free trial classes, you should consider the below-listed points, as it helps you to select the best online acting classes –
You should feel comfortable while talking with the acting coach,
How much acting coach responsive to your queries?
How does the acting coach modulate your prospect when you share with them?
Judgement of acting coach – Do the acting coach for pleasuring you, giving the wrong judgement or demotivating you consistently while doing the right thing. So you should consider this point very wisely, as it will help you build or ruin your career.
Some students do not like large class sizes, so you can ask for one on one lesson or ask for a small class size batch.
See the vibes of a student; as per our recommendation, you should check how much students are motivated for a career; as more motivated, you will feel more competitive. And you will be able to learn new things with them.
Do they invite casting directors or agents to discuss new trends in one of their online sessions? Sometimes it happens you might be performing, casting director or agent offers you a job. So, it will be a game-changer for you.
If they don't invite, see the profile of your acting coach and their influence in the industry, as sometimes they help you connect with the industry people if you request them.
We hope the above list of online acting classes helps you. If you have any addon related to the article, kindly suggest us …..