Be calm, you are at the right website. Here you will be acknowledged with an exact answer to your query, "how to become a veterinarian," without wasting time. Get through the below steps, and if you have a query related to any step, ping our team, they will definitely help you out – 
Steps to become a Veterinarian
1. Small Encyclopedia of Veterinarian
A veterinarian is one of the best professions for serving society because serving animals is not an easy task. The school will teach you the procedure of treatment but dealing with patients who cannot express their problems is difficult, so we recommend that one willing to make a career in veterinary should be mentally and emotionally strong.
Veterinarians deal with various types of animals –
Career as a Veterinary is very diversified. Students are prepared to deal with all kinds of animals in their Doctor of Veterinary Medicine Program, and later you have a chance to gain a specialty.
List of types of animals, veterinarian deals with –
Poultry
Free Wildlife
Zoo Animals
Livestock
Average pay for Veterinarian
As per US News, Veterinarians are ranked 9th in health jobs and 23rd in overall employment, earning an average annual salary of about $ 99,250. In the below image, you can easily see the average salary of a veterinarian in each state in the US.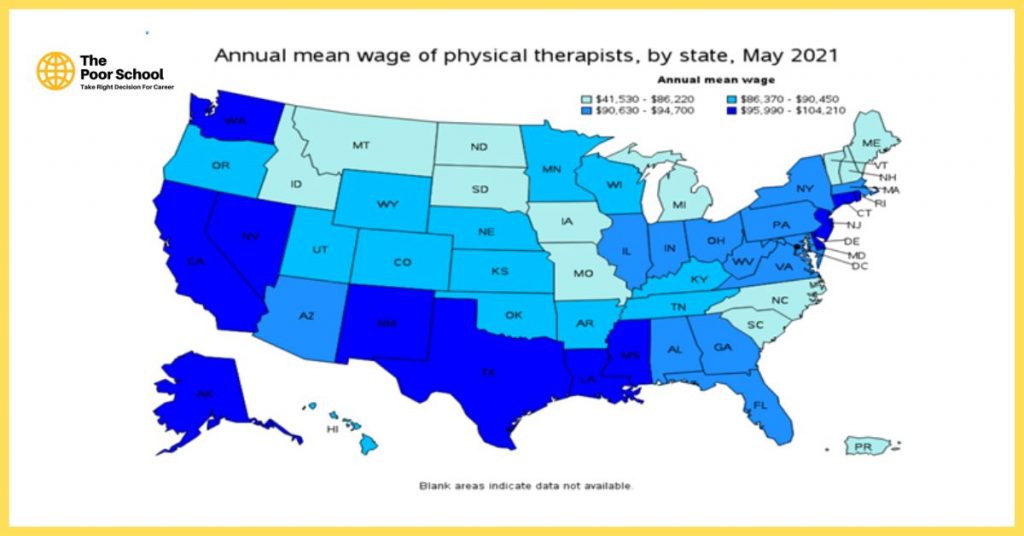 As per BLS reports, the demand for a veterinarian is 17 % in the decade between 2020 and 2030. Most employment has been seen in California,
If we filter the vet industry based on job opportunities, stress level, and work-life balance, it is rated as Average.
Veterinarian Work Environment Includes–
Private Practice

Public

Health

Military

Environmental Protection Agency

Food and Drug Administration

Centre for Disease Control and Prevention
2. What skills do you need to be a veterinarian ?
Being passionate is not only enough forbecoming veterinarian. You need to have some inbuilt skills, which not only help you in clearing the interview for DVM program admission but also help in building a successful career,
Decision Making
Complex Problem Solving
Speaking and Active Listening
Controlling Emotions
Good Observer
Time Management
3. Veterinarian Education Requirements
To become a veterinarian, one has to pursue the Doctor of Veterinary Medicine Program. To be admitted to the DVM program, one must fulfill specific prerequisites for vet school. For your convenience, we have listed all requirements that most accredited DVM school application demands –
While studying in high school, if someone decides to become a veterinarian, they should opt for the subjects in high school, which makes foundation learning and helps pass the ACT and SAT for bachelor. Those subjects include chemistry, biology, physics, and maths. Most importantly, try to secure a good GPA in high school.
It is the volunteer experience one needs to procure working with a licensed veterinarian or organizations working for the sake of animals. Most DVM program schools specify their shadowing hour requirements, minimum of 300 hours or more. We advise you to take all the volunteer experience documents within proper hours.
It's our recommendation to start getting shadowing hour experience from high school.
Pursue a Bachelor's Degree
Based on your high school GPA and popular exam scores SAT & ACT scores, you will get admission to undergrad school, after taking admission, you need to choose specific courses that most veterinarian schools seek during their admissions, such as biology, chemistry, organic chemistry, physics, upper-level biology, English component, and math,
*Kindly check the vet school website for prereq courses once because the courses mentioned above have levels and labs.
With the help of students studying in vet school and from experts. We have listed some courses it's not prerequisites, but if you study in your bachelor's, it will help you in vet school to learn the concept in an easier and faster way,
Anatomy and Physiology
Animal Science
Animal Nutrition
Histology
Microbiology
Genetics
Immunology
Communication
Medical Terminology
GRE score is demanded from most vet schools for taking admission to the DVM program. Some vet schools have set the limitation of GRE Score validity as well. It is our advice you should score a good GRE score for taking admission to your dream vet schools.
To know more about the applicant, vet school requires a minimum of three reference letters from a licensed veterinarian (under whom you get volunteer experience) and one from academic faculty from undergrad school.
Now it's time to apply for DVM Program in various vet schools. Most vet schools use VMCAS (Veterinary Medical College Application Service) for taking applications, while some take it directly from their website,
While there are only 32 AVMA (American Veterinary Medicine Association) accredited schools in the US, we recommend you choose some filters to select the best one for you.
Those filters include
Accreditation – AVMA
NAVLE Percentage
Graduation Rate
Employment Rate
Clinical Rotations
Student and Faculty Ratio
Labs
Tuition Fees
Scholarships offered
If you are interested in studying in California, you can see our blog about the best vet schools in California.
What will you study in DVM Program?
Doctor of Veterinary Medicine is a 4-year program, (in some colleges, it is three years as well), To give you a complete overview of the program curriculum, we have prepared infographics might it help you –
4. What license do veterinarians need
After completing four years of the DVM program, to start working as a professional veterinarian, you need to pass the license exam NAVLE (North American Veterinary License Exam), administered by ICVA (International Council for Veterinary Assessment). This exam is bifurcated into four parts –
Clinical practice: 70%
Communication: 8%
Professionalism, practice, management, and wellness: 7%
Preventative medicine and animal welfare: 15%
And most importantly, some states do not allow you to practice with only having a NAVLE license. You need to fulfil their prerequisites, and then you can begin your practice.
5. Specialized Certification in Veterinarian Sector
After becoming a Licensed Vet, some students want to get specialization in a particular niche, as being specialized not only acknowledges more learning but also gets a hike in salary in various vet organizations,
As per reports, Nowadays, only ten percent of veterinarians have been board certified in at least one specialty,
 If you want to become one, follow the below steps.
Getting admitted to a residency program. It will take about two to three years complete.

Then after getting studied in residency, you need to get specific hours of work experience to become board certified in a particular specialization.
Overall, we have mentioned all the possible steps on How to become a veterinarian. We hope you like it, and if you have any queries or addon, kindly ping us, and our team will respond to you….
Frequently Asked Questions
If you want to become only licensed veterinarian then it takes upto 8 years while if you want to become board-certified veterinarian specialist, then it takes 11 to 12 years.
To become a veterinarian, one need to have a undergraduate and DVM degree.