For your convenience, we have filtered more than 100 colleges to find the list of best computer science schools in California. Below are the factors we consider while making a list –
So, you don't have to worry. Under this blog, you will get full information related to a computer science career, so tighten your seat belt and let's start with the journey. 
New Trending Insights of Computer Science –
As per BLS Reports of 2021, the demand for computer science is surging more than 10 percent in the upcoming decade, which is good for the students who are willing to make a career in the computer science field and, most important.
Apart from being a programmer as a profession in a computer science career, there are also some other high paying computer science jobs as per the US Labor Bureau reports, which have been seen in good demand. 
Requirements for Applying to California Computer Science College
To get any degree (bachelor's, master's and PhD), you need to have a minimum GPA score of 3.0 or above.
Must have an ACT or SAT score.
All-Academic Certificates will be submitted with the application.
As per the college requirement, students who graduated must submit the essays with a letter of recommendation and resume or cv. 
List of Computer Science Schools in California
Stanford School of Engineering
It is one of the best computer science colleges in California and was founded in 1965. Most successful start-ups such as Google, WhatsApp, Netflix, and YouTube, founders, cofounders & CTO are alumni of Stanford University.
And most important, Stanford University is not only known for its academics as well as sports, as Stanford University holds the record for the most national championships.
For weekends, the college has an organization named "Cardinal Nights," which organizes weekend events.
Stanford's curriculum for computer science students is regulated from foundation to advance, and students are allowed to develop depth in one of the specializations, which includes –
Student and Faculty Ratio in Stanford University in computer science class is 12 :1
Various Computer Science Degrees offered in Stanford University
Joint CS MS/Law Degree

Joint CS MS/MBA Degree

Joint CS PhD Law
As per students' reviews, there are more than 60 regular faculty in the computer science department. They all are very supportive and always ready to boost the confidence of students to perform better.
For research, the college has five CS department labs, each with specialized niche professors for mentoring
Stanford University has a forum, particularly for the computer science department, under which resources related to internships and jobs are posted. The college has partnered with CDC related to job opportunities.
Each year college organizes a fair, under which on-campus interviews are taken place and discussion events related to new market trends
UC Berkeley College of Engineering
UC Berkley is one of the best UC for computer science, and it has good recognition in research and entrepreneurship. University Alumni founded some famous companies, including Apple, Tesla, Soft Bank, and eBay.
You will be amazed to know UC Berkeley have two different colleges, which offer computer science degree programs,
1. UC Berkeley, College of Engineering – this college offers Bachelor of Science Degree
2. UC Berkeley, College of Letters and Science – this college offers Bachelor of Arts Degree
In the below image, you can easily understand the difference between them,
If you are not sure about your career specialization, UC Berkeley gives students the chance to start their specialization study from next semester.
While the curriculum is divided into two divisions, Lower and Upper div. In the lower div, subjects will be related to the foundation, which contains
If you want to check out an introductory study of computer science, then CS61A is helpful.
After qualifying for lower div, you will be upgraded to the upper div; under this, you will study core specialization classes.
College culture is very competitive, and you must work hard to cope with other students.
Faculty of College have good expertise in their niches. While talking to one of the students, we come to know that she has opted for the particular subject because particular faculty is teaching them. Moreover, they are supportive and mentor the student to explore new ideas.
College is very concerned regarding students' preparation for the interview. Under the upper div module, college included the subject that helps students speed up their problem-solving skills.
You will be amazed to know college initiated the Corporate Access Program. Under this program, corporates get registered and hire students for a job and internships.
Pros & Cons of UC Berkeley
If you have taken the ap courses, it will help to skip some subjects in college, and please check whether your credits will be able to transfer or be accepted into a major school.
USC Viterbi School of Engineering
USC Viterbi School of Engineering is one of the top engineering schools in California. The college has popular recognition in the research sector; some of the famous research projects include 
AFL Theory
DNA Computing
Baum Welch Algorithm
CMOS Image Sensor and many more.
Viterbi is known for its cohesive community. Apart from being diverse students, all work hard to support each other. If you like sunny weather, Viterbi should be the first preference, as it comes under the list of best suny schools for computer science
Viterbi Curriculum is framed according to industry trends, including all the subjects that help students coordinate easily with the market. Viterbi offers Bachelor of Science, Master of Science, and Ph.D.  
Apart from the significant studies, if any student is interested in cinematic arts and dance, the college offers a minor program option to study along with their majors.
Major Research Areas in Viterbi Computer Science Department
Student and Faculty ratio in USC Viterbi School of Engineering is 5.5:1
As per USC Viterbi students, the college has circulated separate timings (named "office hours") for students to interact with their subject faculties. Under these timings, the student can clear their doubts related to the subject,
College also provides the Mail ID of faculties to the students, so they can easily interact with them at any time, and one of the best things is that the faculty always gives replies to the student queries, 
To engage students in the class, USC Viterbi has initiated participation points.
USC Viterbi has excellent employment support for their students. College initiates various events which help students to explore industry requirements and insights.
USC has a separate portal for jobs and internship resources. Additionally, the university has an independent advisory board that answers students' queries and showcases their career paths.
If you have taken the AP courses, it will help to skip some subjects in college, and please check whether your credits will be able to transfer or be accepted into a major school.
UCLA Samueli School of Engineering
UCLA computer science is ranking 16 across the nation, university is accredited by the Computing Accreditation Commission of ABET.
You will be amazed to know that UCLA Samueli is known for Internet Birth; the first message is delivered to Stanford University via computer by Leonard Kleinrock (renowned professor at UCLA), 
UCLA Samueli offers three computer science programs: Bachelor of Science, Master of Science, and Ph.D.
UCLA is a D1 school known for basketball, gymnastics, and football. Apart from this, the college also has a cultural and technical club.
UCLA Samueli is based on the quarter system, which means ten weeks per quarter; the curriculum is pretty theoretical, which is suitable for students who want to go to grad school, while it is less helpful in the industry (as you can't use all theoretical subjects in the industry). 
The student and Faculty Ratio at UCLA Viterbi is 18:1.
UCLA Samueli's acceptance rate is 8.6% for computer science. If
we talk about the tuition fees of UCLA Samueli, it is less compared to USC and UC Berkeley.
UCLA Samueli has one of the best UC campus, it provides three years of guaranteed housing, and the accommodation is not like old shabby one; it is pretty fancy housing, including a hanging lounge and spacious eating place.
The most remarkable thing regarding UCLA Housing is that all housing is located in one place, which helps students to study together,
They have one of the best food facilities, which includes a variety of foods Asian food as well, and each day you will get more than ten flavors of ice cream.
UCLA Samueli has Stellar Student Organizations, including ACM, UPE, and many more; these organizations help students update with new industry trends and crack extensive corporation interviews.
Apart from this, UCLA organizes an annual fall technical fair, under which hundreds of companies attend to hire CS students.
Big corporations love UCLA, as tech giants including Microsoft, IBM, Google, and Facebook give input and understand our curriculum, which means they know UCLA students' capabilities.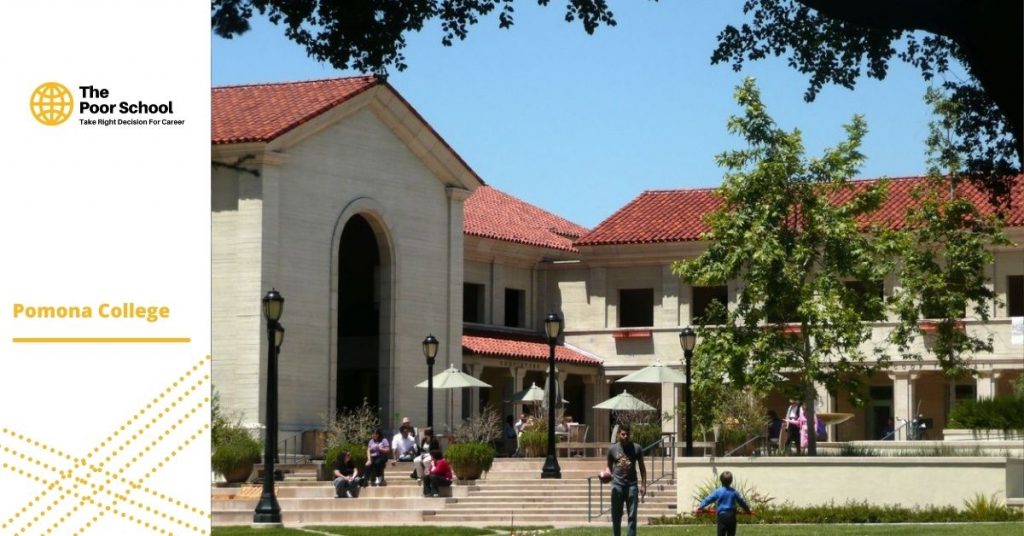 Pomona College is among the good schools for computer science in California; as per the reports of 2021, Pomona computer science students earn an average starting salary of $ 73,700.
In the academic year of 2020-21, more than 50 percent of students got financial aid of $ 56,284. Moreover, the college also sponsors a research program, under which students get a stipend of $ 5600.
To take admission to Pomona college, you will get three gateways – Common Application, Quest Bridge Application, and Coalition Application.
Pomona structures its curriculum from basics to advance, including learning core subjects such as data structures, discrete mathematics, operating systems, and algorithms.
At Pomona college, you can choose three electives to study: operating systems, artificial intelligence, computer graphics, human interaction, natural language processing, high-performance computing, computer security, and robotics.
In this college, you will have a semester system and the opportunity to create an independent study course with the help of mentors/faculty.
The student and Faculty ratio in the computer science program at Pomona College is 8:1.
Pomona College has introduced the Pomona College Career Development Office (CDO), which helps students connect with industry experts to get internships and update them with new trends.
The college has built a strong connection between the alumni and students via the Sagehen Connect platform; it helps students prepare for jobs and mentor them for senior projects.
University of California, San Diego
UC San Diego has ranked well in offering undergraduate and graduate computer science degrees. If you want to pursue MS in California, it will be a good choice, as a university spent more than $ 1 billion in research in 2017, 
College also has Supercomputer Centre on campus to research various sectors, including nanotechnology and wireless telecommunication.
Taking admission to UC San Diego is highly competitive, as more than 100K application college receive each year.
UC San Diego has a quarter-based education system; the curriculum helps students establish an excellent foundation and prepare for the new market trends
They have initiated with a tutoring program, where they hire current senior students to clear doubts of fresher students. University environment is competitive, but they believe in helping their fellow mates. 
As per the student's review, it is one of the best UC schools for computer science in terms of faculty, 
As most faculty of the cs department is very supportive and have deep knowledge in their respective field, each faculty's primary goal is to make students understand the code's logic and motivate them to explore more.
Some of the Renowned Faculty –
Sanjoy Dasgupta — a top algorithms researcher and co-author of a popular textbook on the subject
Ronald Graham, founder of Graham Number, will teach you algorithm and system analysis.
Each year college organizes multiple job fairs under which various big companies such as Google and start-ups attend the fair. Besides this, the college invites companies for tech talks and organizes hackathons.
So, if you are selecting UCSD for computer science, in respect of the job, then it will be a good choice.
If you have good AP test scores, it will help to leave some classes.
San Jose State University
San Jose State University's computer science program outranges the list of best cs schools in California on various factors such as employment and academics.
San Jose is located in the bay area, and nearby, many good companies are located, which benefits several students to grab internships and jobs.
Due to fewer seats (approximate 45) for computer science, you have to face tough competition. 
San Jose State University is accredited by ABET, which, underneath all the core subjects for the computer science program apart of this college, offers students to choose specialization and electives.
Various Computer Science Programs you will be offered at CJSU.
College faculty are very supportive, and most faculty do the job in tech companies along with teaching, which helps students acknowledge new market trends.
SJSU has created the career centre, under which they help students prepare for interviews and update their resumes per new industry insights. 
The university also initiated various programs to attract employers, under which the "Work-Study Intern Program" is outstanding.
California Polytechnic State University, San Luis Obispo
Cal Poly State University, San Luis Obispo, is one of the best computer science schools in southern California, 
Getting admission to Cal Poly, San Luis Obispo, is difficult. You must disclose your major in the application form before (you can't change your major later on). As per the reports, the admission authority lists applicants who apply for that major and filters based on GPA, SAT, or ACT scores.
According to the student's review, Cal Poly, San Luis Obispo, should be the preferred option under graduating rather than Ph.D.
Cal Poly, San Luis Obispo structure its curriculum as per the industry insights, and most importantly, it has a quarter base system.
According to the student's review, the college emphasizes practical rather than theoretical learning.
Below is the list of specializations included in the curriculum – 
Professors insist students for focusing on senior year projects, as it plays a vital role in getting a good salary job.
You will get a small class size, approximately 30 to 50 students, which helps get professors' attention.
The faculty in the college is excellent; for the industry exposure, Cal Poly, San Luis Obispo, is taking a great initiative to collaborate with tech companies to send their employees to give classes.
Cal Poly is known for excellent employment; most college majors get jobs after completing their studies.
Apart from this, in San Luis Obispo, many tech giants like amazon and start-ups have opened their offices, which increases the opportunities for Cal Poly students to get internships and jobs.
Cal Poly is one of the best cal state for computer science school based on employment and academics
We have listed all the schools that teach computer science in California. If you have any addons related to this, kindly contact our team

.