In today's era, expenses of livelihood are rigorously increasing daily, directly affecting the common person. If they try to upgrade their studies for their better future, the high cost associated with them makes them discouraged.
And to do post-graduate from top MBA colleges of United States is not easy for common citizen of US whose average income is 60,000 USD annually, meanwhile getting an education loan is not easy.
After doing all the hustle, student think of getting a scholarship with several queries in mind as follows,
Is there any scholarship for MBA students in USA?
Can I get scholarship for MBA in US?
How to get scholarship for MBA in USA?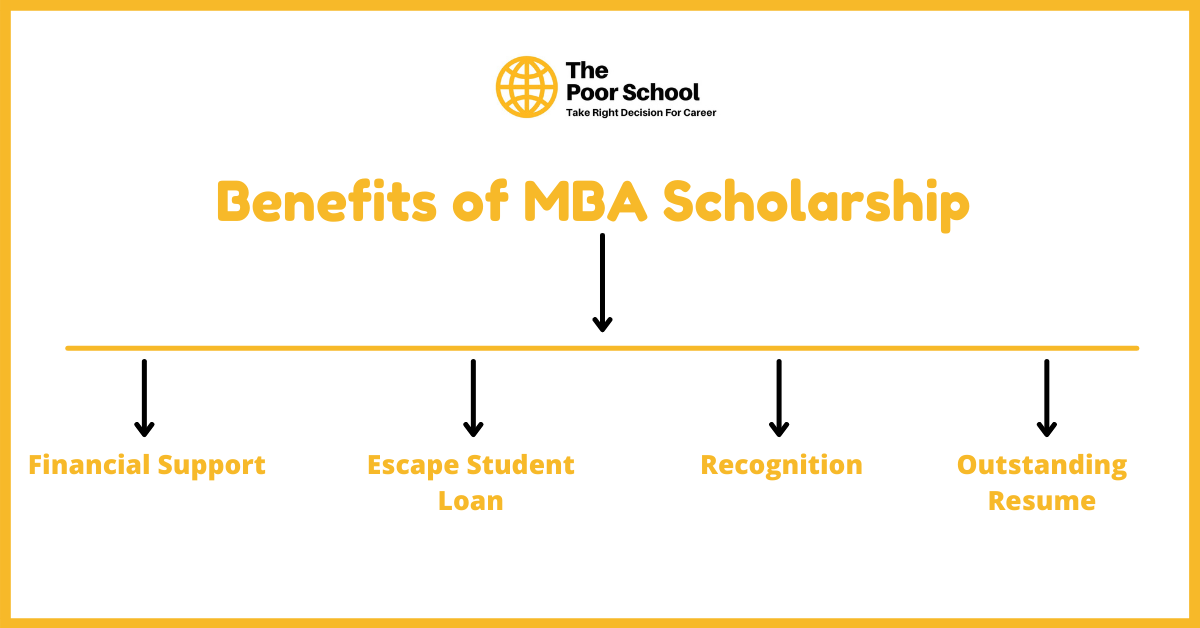 For all your answers, The Poor Schools Team comes up with a list of MBA Scholarships in USA & steps to write the successful application for a scholarship that makes you rid of the stress of finance and high tuition fees of institutions.
Before going further, an individual should know various sources of scholarships: –
If you are working with a company that provide sponsorships for higher studies, you can check with concerned authorities regarding that and tell them how it helps the company,
You can also approach the donors who provide the scholarships, and you should prepare a proper structured application with your future plans,
Last, is the scholarships provided from various colleges based on GMAT score and other factors,
There might be a question in your mind regarding requirements of scholarship application below we have mentioned: –
Bachelor's Degree from an accredited institution
Either an in-person or video
At least GPA 3.0
Letter of recommendation
A personal statement of objectives
GMAT or GRE Score Report
Proof of citizenship or permanent residency in the United States
List of MBA Scholarships in USA
The Richard Metzler Scholarship
This scholarship for MBA students in USA is initiated by the Association of Management Consulting firm, which got the excellence in management consulting.
Daniel B. Goldberg Scholarship
Government Finance Officers Association took the initial step to provide financial aid for MBA students preparing their career in state finance. Scholars funded by Girard Miller Foundation funds it.
Minorities in Government Finance Scholarship
To explore opportunities in higher education, Government Finance Officers Association comes up with MBA Minority Scholarship; if a student belongs to one of the minority groups and makes a career in government finance, they can apply for their MBA grants.
National Academy of Human Resources Graduate Scholarship
For students who are pursuing or taking admission in masters of human resource concentration, meanwhile NAHR Scholarship is peculiarly for them.
Hubshout Internet Marketing Scholarship
The scholarship is for business school students who are passionate about online marketing. Moreover, the award is sponsored by Hubshout, is available both for the US and international students.
Paul HagelBarger Memorial Scholarship Fund
It is one of the grants for business students who have a keen interest in accounting, as the fund provider motive is to promote public accounting in the state of Alaska.
Wiley CPAexcel Scholarship
With Aim of developing next-generation Certified Public Accountants (CPAs), this scholarship is started. Wiley CPAexcel Scholarship recognizes at the national level.
New Hampshire Society of Public Accounts (NHSPA) Scholarship Program
The scholarship is only for the candidates who have a keen interest in accounting; meanwhile, this MBA scholarship opportunity is provided to the student who is 4th year of graduation.
Golden Key Graduate Scholar Award
Golden Key International Honour Society takes this Award initiative. Sponsors have strong relationships with 400 universities worldwide, and it is one of the top MBA scholarships for international students in USA.
Lawn Starter Lawntreprenure Scholarship
If you are one of those who are willing to start a landscaping business, then this scholarship is for you. The sponsors aim to help prepare next-generation entrepreneurs.
To apply for this scholarship, the student must enroll in MBA programs of California (internal link) with a real estate career such as finance or management.
The CAR Scholarship foundation aims to help the candidate whose intent to make a career in real estate.
Carl W. Christiansen Scholarship
The purpose of this fund was to assist students who are willing to join the public accounting profession, with this fund's students defray from the cost of a college education.
Transamerica Retirement Solutions Leader in Healthcare Scholarship
The scholarship is peculiarly for the student studying in the Institute for Diversity in Health Management of the American Hospital Association. The scholarship is awarded annually $ 5000 to the two first- and second-year graduate students pursuing an MBA, MHA, MPH, or MSN concentrated in health care management.

Note – This Scholarship is not for a Fully Funded MBA Program in USA
Union Plus Scholarship Program
Union Plus Scholarship aims to provide financial aid to the union families for getting higher education.
*Union Plus Scholarship is peculiarly for US citizens.
AICP Scholarship Program
This scholarship is for a student who are willing to make a career in insurance. Funds of the scholarship will be accredited directly to the institution's account annually.
And most crucial scholarship is not renewable; the recipient needs to reapply annually.
QS Leadership Scholarship
If you want to study MBA in USA with scholarship, then the QS leadership Scholarship is the best MBA scholarship. It requires strong leadership and innovative thinking from the candidate, which is necessary for an MBA.

Note – The Scholarship must go towards your tuition fee
AKA Graduate Scholarships
Alpha Kappa Educational Foundation initiates the Scholarship, their aim is "To promote lifelong learning," the scholarship is only for advanced education.
Marry Elizabeth Lockwood Beneventi MBA Scholarship
The scholarship is available for U.S. graduate students who are majoring in business administration (scholarship is not annually renewable).
Ritchie-Jennings Memorial Scholarship Program
Ritchie Jennings Memorial Scholarship Programs aim to help the students get advanced education, & they also help the students interested in making a career in fraud examination.
Steps to Write a Scholarship Application
Scholarships are helpful to relieve from the tuition fees of business schools, on the internet you might go up with various articles which are discussing tips for getting "100 percent scholarship for MBA in USA",
But no one discusses a synchronized way to write a scholarship application that attracts decision-making authority in one go…….
Let's start to frame your successful scholarship application
Step 1: First, you have to scrutinize your thoughts in one paper regarding- reason for doing an MBA and why the authority accept your scholarship application (list the point which makes you stand different from others)
Additionally, gather background education certifications, co circular achievements, income, demographics, disabilities, and your future goals. This process will ease your searching for the scholarship and complete the scholarship applicant information section.
Step 2: One of the essential considerations is given to the academic section in the MBA Scholarship Application, as it shows a candidate's capability. Academic Score Priority Considered: –
Credential Examples- Charter Financial Analyst (CFA), Charter Public Accountant (CPA)
Step 3: In the section of the applicant profile, you get the opportunity  to convince the scholarship committee for your future goals and the reason which makes you stand different from others to get the scholarship.
Personal Statement: It should be concise; under this applicant should write regarding your work experience, educational future goals, most important you have to tell regarding usage of the scholarship grants.
Essays: Some organizations ask for writing an essay; moreover, your content should be unique, and kindly read the guidelines provided by them. Examples of topics like – Why leadership essential for MBA aspirants?
Recommendations: Scholarship authority demands a letter of recommendation, which describes your skill set, such as leadership, to verify the candidate's skill with a letter of recommendation. 
Resume: It should be structured and depict your past work experience, which can showcase your future success in MBA Program
Activities & Honours: it includes your achievements in co circular activities apart from academics for a volunteer in social causes, sports. The candidate should list his best activities and honors; these achievements might make you stand different from others.
Step 4: MBA aspirants need to kick start the scholarship process at least six months before the GMAT Exam Attempt; it helps you organize without being hustle while applying for a scholarship.
So, Guys, I hope we solve your query for the "list of MBA scholarships in USA and their applying process."